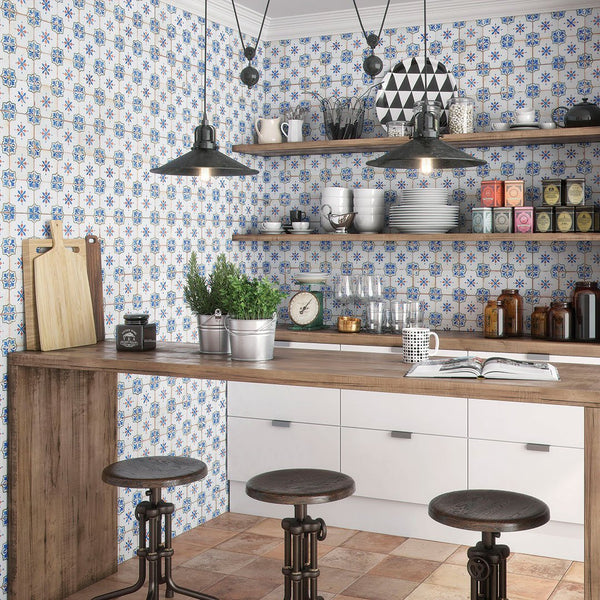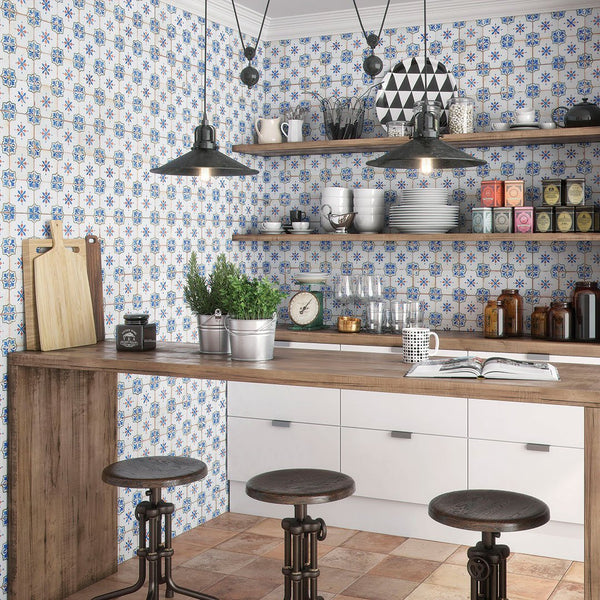 Compare
Mirambel 13x13 Patterned Tile
Azul
Inspired by classic stencil-painted ceramic tiles, the Merola Tile Mirambel Azul 13 in. x 13 in. Ceramic Floor and Wall Tile offers a stunning throwback to artisanal tile work. Save time and labor spent arranging smaller square tiles and instead install these durable ceramic slabs, which have nine squares separated by scored grout lines. Designed by interior architect and furniture designer Francisco Segarra, this tile is a true reflection of vintage industrial design. These encaustic- inspired tiles offer an antique look for your space. The handmade, stenciled old-world pattern throughout in shades of terra cotta, light denim and dark olive is accented with the low-sheen white glaze. Imitations of the scuffs and spots that are the marks of well-loved, worn, century-old tile allow the rich red tones of the ceramic body to peek through. These rustic scuffs and spots convince that this tile is truly aged. There are 4 different variations available that are randomly scattered throughout each case. The scored grout lines can be grouted with the color of your choice, or left ungrouted for a rugged finish. Bring rustic charm to your interior with this easy-to-maintain look.
Mirambel Azul is a 13x13 ceramic floor and wall tile.
Due to differences in screen resolutions, we cannot be responsible for variations between the actual product and your screen. Products are subject to variations in color, shade, size, surface texture and finish.